Our international team of specialists has successfully assisted companies of all sizes and team compositions in Africa, Asia, and Europe in launching new operations or taking existing ones to the next level.
With operational centers in both Europe and Asia, we are uniquely positioned to provide our clients with round-the-clock support and service.
PLATFORM 8 SPORTSBOOK
Our state-of-the-art Sportsbook solution, Platform 8 (P8), provides a comprehensive ecosystem of applications and websites that allow operators to manage their end-to-end sportsbook and gaming operations.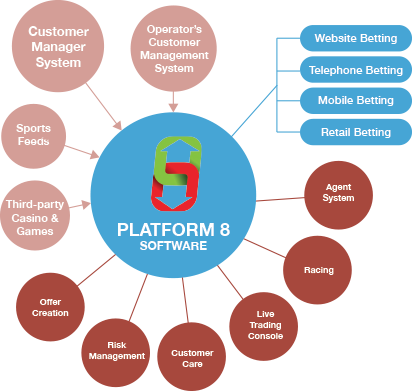 Our solution includes a transactional engine and bet administration solution, complete with full sport data feed integrations, price derivation logic, and a REST API for easy integration of third-party products.
We understand that every business is unique, which is why we offer flexible solutions to meet your specific needs. BETICA's P8 solution is offered as a turnkey solution for clients who prefer to delegate IT and trading, or as a self-managed solution for those who wish to have full control of their IT and/or trading. This flexibility ensures that our clients get exactly what they need to succeed.
Betradar Platform Partner
BETICA is also an official Platform Partner of Betradar, the leading one-stop-shop provider to the betting industry. This partnership allows us to offer our clients access to a wide range of additional betting and gaming solutions, including data collection and management, odds calculation, and trading tools that can all be integrated into the Platform 8 solution.
CONSULTANCY AND CUSTOM DEVELOPMENT
What's more, our specialization in sophisticated custom developments enables us to offer a wide range of possibilities for clients seeking tailor-made solutions. Our team can develop custom sportsbook and gaming products, unique betting markets and events, branded front-ends, and custom integrations with third-party products and services.
At BETICA, we are committed to providing our clients with the best possible experience. Our team of international specialists is always on hand to provide expert support and advice, ensuring that you get the most out of our solutions. With BETICA, you can be confident that you're getting the best possible Sports and Gaming solutions on the market.
Contact us today to learn more about how we can help take your business to the next level.